From Rage to Courage

Answers to reader's letters
Norton, 2009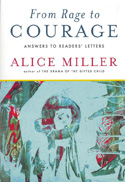 Collected for the first time, Alice Miller's most helpful, therapeutic, and invaluable answers to thousands of readers' letters.
The renowned childhood researcher, psychotherapist, and best-selling author Alice Miller has received, throughout her long and distinguished career, countless personal letters from readers all over the world. Here, in From Rage to Courage, Dr. Miller has assembled the most recent, producing an insightful work that illuminates the issues and consequences of childhood abuse. Whether exploring the connection between repressed anger and physical illnesses like cancer, the reasons why many survivors of abuse turn to drugs or crime, or the cycle that condemns generations of families to cruelty in childhood, Dr. Miller's answers are sensitive, honest, and supported by decades of experience. A practical guide to Dr. Miller's unique therapeutic concept, this work once again affirms the healing and liberating power of retrieved emotions.
"Alice Miller makes chillingly clear to the many what has been recognized only by the few: the extraordinary pain and psychological suffering inflicted on children under the guise of conventional childbearing." –Maurice Sendak, author of Where the Wild Things Are
Alice Miller's still best-selling study, The Drama of the Gifted Child, brought her much international attention and recognition. Since then she has written a great number of books, including Free From Lies. She lives in France.